| | |
| --- | --- |
| Statoil Launches Ski Fit North Alberta Program | Jan 29th, 2010 |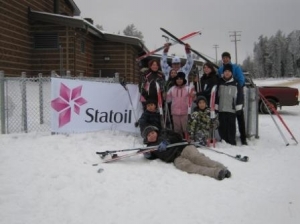 The Ski Fit North Alberta program officially hit the road on January 19, 2010 as Andrew Urton, Ski Fit North Alberta Coordinator arrived at Fort MacKay Elementary school to work with over 75 students and teachers from the small hamlet north of Fort McMurray. For the majority of students this was their first experience on cross-country skis.
Over the next 3 days more than 300 students were exposed to the Statoil sponsored program including students in Conklin School, Anzac School and the elementary school in Janvier. "Interest was high in all four communities," highlighted Urton after his week-long trip into Northern Alberta. "All school teachers showed interest in purchasing equipment so they could spend more time on the snow. Perhaps the real success of Statoil's investment will be evident in the future when each school has their own equipment and skiing is part of the curriculum." The program is coordinated by Cross Country Alberta in cooperation with Cross Country Canada.


The Ski Fit North Alberta will target Canadian youth between the ages of six and 14 in regions of Statoil's core business in Northern Alberta. It is the first step to help recruit and retain children to the sport of cross-country skiing at the grass roots level and will be delivered through schools and community centres.
"Ski Fit North has been a highly successful program in northern Saskatchewan communities for more than fifteen years. It is a proven youth development program that we are now able to develop and deliver in our Northern Alberta communities," said Davin MacIntosh, executive director, Cross Country Canada. "With Beckie Scott as an active Olympic role model, Andrew as the onsite coordinator for many of the initial outreach visits and the generous support of Statoil, our goal is to inspire kids and teach them the benefits of a healthy and active lifestyle, while encouraging them to pursue excellence in cross-country skiing."
Beckie Scott, Canada's double Olympic medallist was in Grande Prairie and St. Albert earlier in the season working with young athletes from a number of different ski clubs in the region. At that time she also spent some valuable time with Urton and Bill Jeffries, one of the original architect's of the Ski Fit North program in Saskatchewan talking about the goals and objectives of the program and how they could work together to make a positive impact on northern Alberta communities.
Statoil Canada Ltd's activities include production offshore Newfoundland and Labrador at the Hibernia and Terra Nova fields. In 2007 the company acquired North American Oil Sands Corporation with over 1100 square kilometres of oil sands leases in northern Alberta. The company is currently developing the Leismer SAGD Demonstration project which will have a nominal capacity of 20,000 b/d.