Coaching courses are typically run by the two major bodies of coaching ceritifcation, the Coaching Association of Canada and the Canadian Association of Nordic Ski Instructors (CANSI). Each offers courses at the different certification levels:
CCA offers leadership grants to subsidize the cost of taking most courses:

CCA - Leadership Grant Program

NCCP Minimum age and MMCQ policy
Alberta Coaching Experience Program (ACE)
Cross-Country Alberta is again looking for keen and active individuals to provide coaching support for the Alberta Provincial camps. These camps provide great opportunities to help teach and coach developing level athletes from around Alberta, but also to work with other coaches – both in mentoring or learning role and in experience-sharing.
Information regarding the ACE program in the 2010-11 season will be posted when it becomes available.
For more information contact the CCA office.
Athlete and Coach Development Progression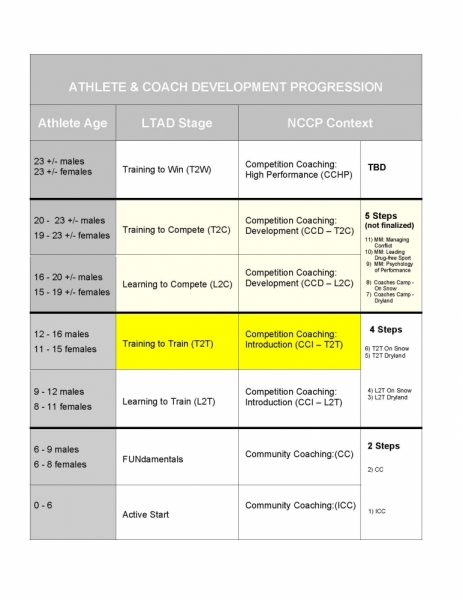 Athlete and Coach Development Progression