Birkie Awards Presented at Viking's Feast:
Created on 18 March 2016
Last Updated on 18 March 2016
0 Comments
Founders' Award
Recipient: Kaare Askildt
The Founders' Award is presented to an individual or group who worked to create the Canadian Birkebeiner Ski Festival and/or who was a key contributor to growing this event over the early years. To see a list of recipients, click here.
Kaare was one of a small group of fellows who got together in 1984 with the notion of introducing the Canadian Birkebeiner Ski Festival. Kaare served on the Board of the Birkie Society for several years, and also enjoyed skiing some Birkies.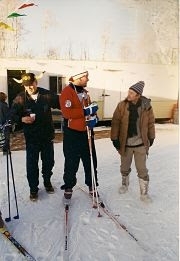 Ole Hovind Award
Recipient: Ana Lucas Osma
The Ole Hovind Award was created in memory of Ole Hovind, who is recognized by most as the Father of Nordic skiing in the Edmonton region.  The award is presented annually to the skier who best represents the spirit of the Birkebeiner and the things which Ole valued – skiing for the sheer joy of it, having fun, joking around, achieving something and just getting out there and doing it.  For more about the award and previous recipients, click here.
This award is generally presented to an individual who has skied in several Birkies and the recipient is decided upon by the Awards Committee weeks in advance of the Birkie. For these reasons, the Award was presented this year, despite the curtailment of the ski events.
When Ana Lucas Osma discovered cross-country skiing, it allowed her to feel just like everyone else who has ever tried the sport  - free and independent.
Ana, age 36, is a Para-Nordic skier; she sits on a sled over her skis, crunched into a custom-made metal chair. She's belted in at her waist and across her pink down booties, so she becomes one with the sit-ski. "In a sit-ski, you get to go where you can't in a wheelchair," she says. "You don't feel like you have a disability."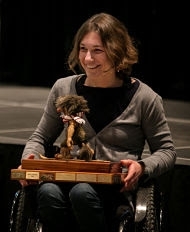 For more information on the awards given out at the Vikings Feast, see the Birkie Unique Awards page