| | |
| --- | --- |
| Ski Fit North Program | Jul 18th, 2013 |

Ski Fit North Alberta (SFNA) is a unique community development program focusing on the sport of cross-country skiing. In partnership with Cross Country Canada, Cross Country Alberta, and sponsored by Statoil, the SFNA program has successfully completed its 3rd year of operations in Northern Alberta.

The Primary goal and focus of the program is to promote healthy lifestyles for all residents of northern Alberta through the lifelong sport of cross country skiing. The main focus of the program has been grass roots development and exposure to the sport.

SPECIFIC PROGRAM OBJECTIVES
Promote healthy lifestyles and build community relationships through the delivery of ski events and fitness programs in northern schools and communities.
To motivate students to stay in school by enhancing the school program through the delivery of ski events and programs in northern schools and communities.
Teach basic techniques and ensure students, teachers and other participants have a fun and positive experience on skis.
Provide resources and support for development of permanent community infrastructure (ski clubs and ski trail development).
Provide development programs and resources for community coaches, officials and leaders.
Help individuals interested in competing in the sport to be competitive and provide information and resources to do so.
Provide grant funding information and support to schools and communities in interest of accessing funds to purchase ski equipment or development trails.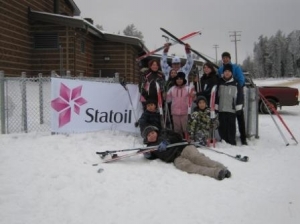 Two-time Olympic medallist, Beckie Scott travels throughout northern Alberta, along with Andrew Urton, Ski Fit North Alberta Coordinator to inspire Canadian youth to take their first strides in the sport of cross-country skiing. SFNA has made nearly 50 community visits to date, and has worked with 18 separate communities across the North. From those community visits there were over 4,100 participants in the program. The majority of schools were visited twice throughout the ski season. Core communities (communities near Statoil's business areas and communities in which the sport is developing at a rapid rate) took part in the program on 4-8 separate occasions. The core communities form the foundation of the program as they are now developing into self-sufficient programs Find more information on Ski Fit North Alberta.
| | | |
| --- | --- | --- |
| | | |
| | ANNOUNCEMENTS & UPCOMING EVENTS | |
| | | |